M3 OFFICE SPACE - FOR RENT
If you're searching for a modern business space, with flexible interiors, which can satisfy all the needs of your company, you're in the right place...
M3 Office Space building participated in this year's European competition for the most beautiful European facade that is held in Valencia, where it got the PUBLIC VOTING WINNER award and first place according to public votes for thermal renovation and reconstruction project.
The Life Challenge competition has been organizing the selection for the most beautiful facade in Europe for many years, and this year it is planned to be held in Spain. Twenty six countries participated in the competition, with over 400 projects, and according to the votes of the jury, for the first time, a project from Serbia entered the finals, designed by B.Sc. Mina Srećo. We had the opportunity to see 11 projects from Serbia, but this year, the M3 is the only building that won, and at the same time reached the finals according to the votes of the jury, which consists of 13 eminent architects.
M3 Office Space is a modern facility created to meet the needs of business companies, which are increasingly accepting the idea of making the office environment creative and friendly. Trends in the business world are changing, as evidenced by the need of a large number of IT companies, which have understood this approach and are trying in every way to "pamper" their employees, providing them with content for relaxation, entertainment and recreation.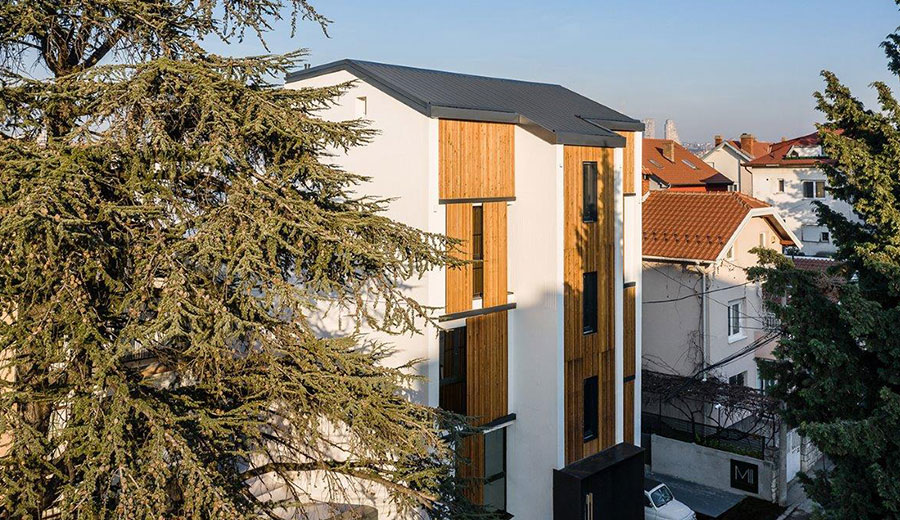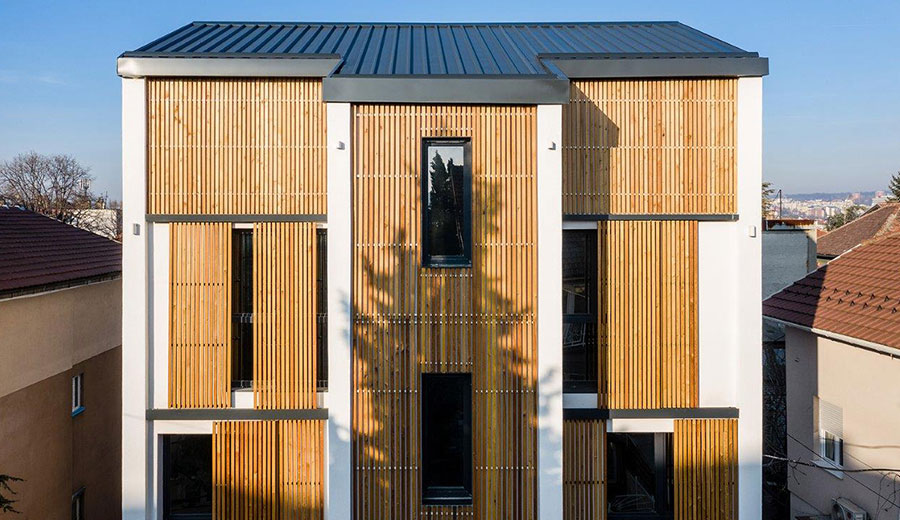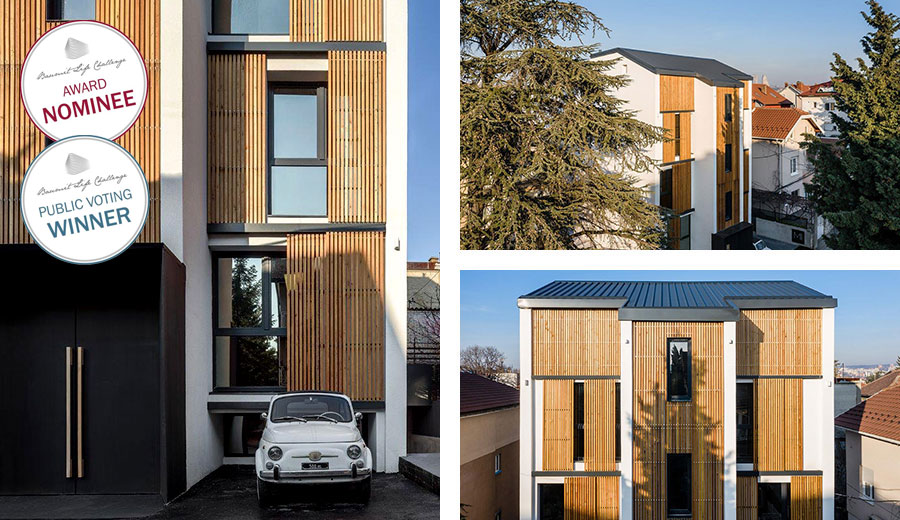 The main reason is the fact that a nice and pleasant business atmosphere encourages productivity and innovation, so corporate giants such as Google, Facebook and Pixar have shown us a strategy that is a sure path to success! Office environment should be pleasant to use and pleasing to the eye, so that employees feel flexible and "throw themselves" into work with ease. In this way, they are stimulated to imperceptibly increase their productivity.
If you are looking for a modern office, it must be an exciting, unique, professional and attractive environment for your employees and future clients. Content that can be described as a "must have" in trendy business facilities are open work spaces, a pleasant atmosphere and of course a place where your employees can socialize, relax and reset (gym, billiards or pool), a place where they may come up with the most ingenious idea for a new business project, and there is no doubt that such amenities will strengthen the team spirit.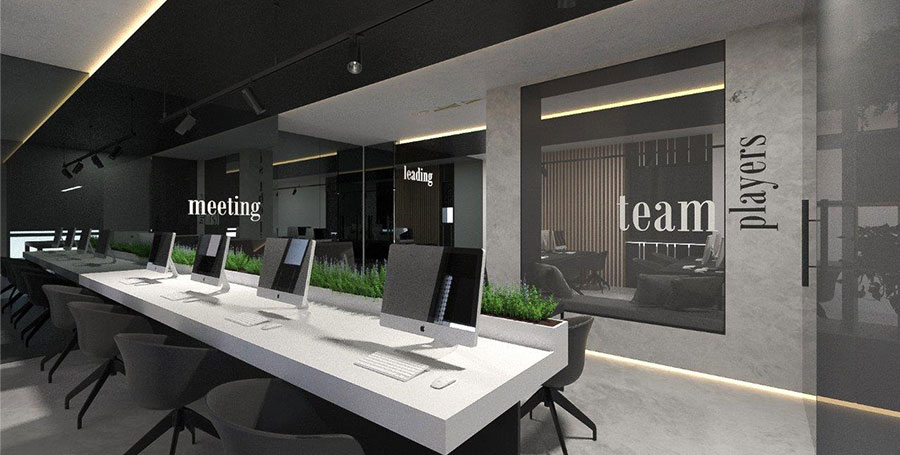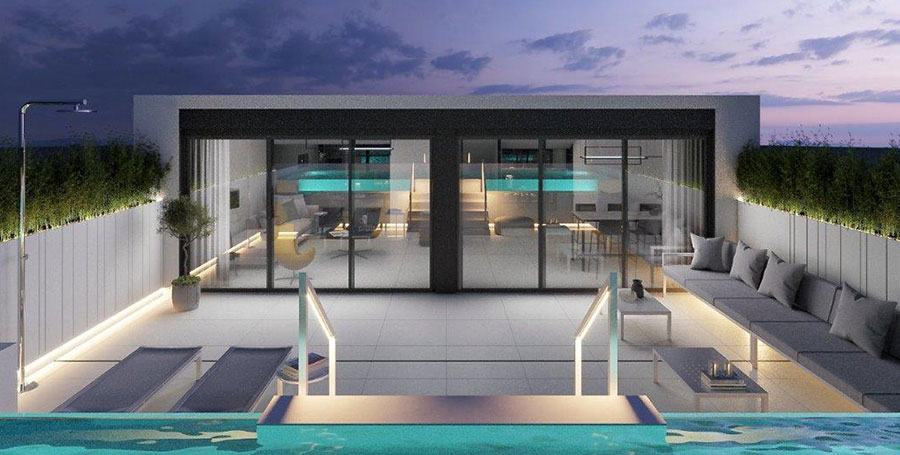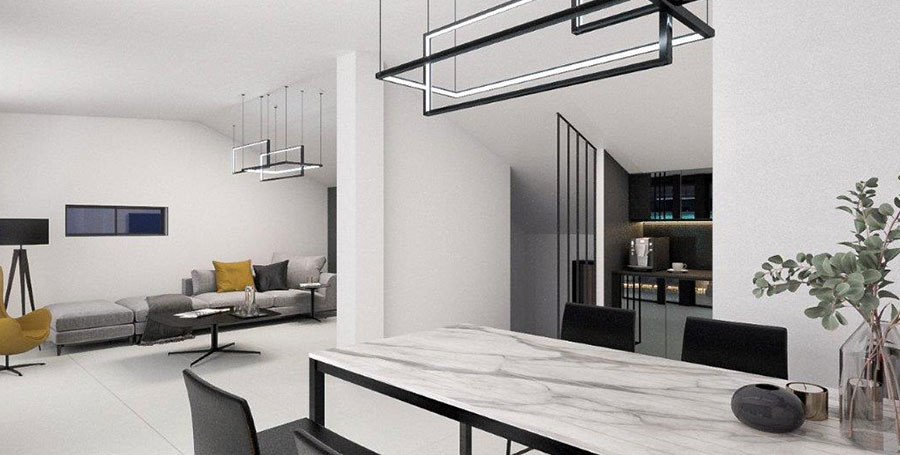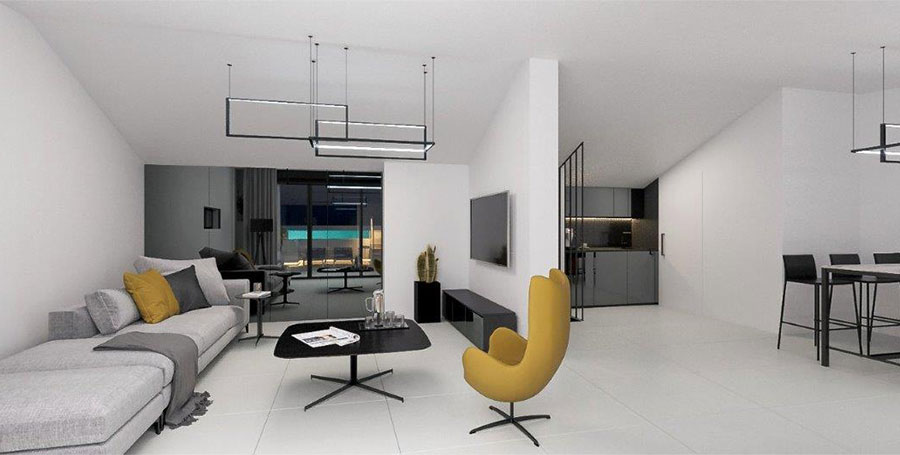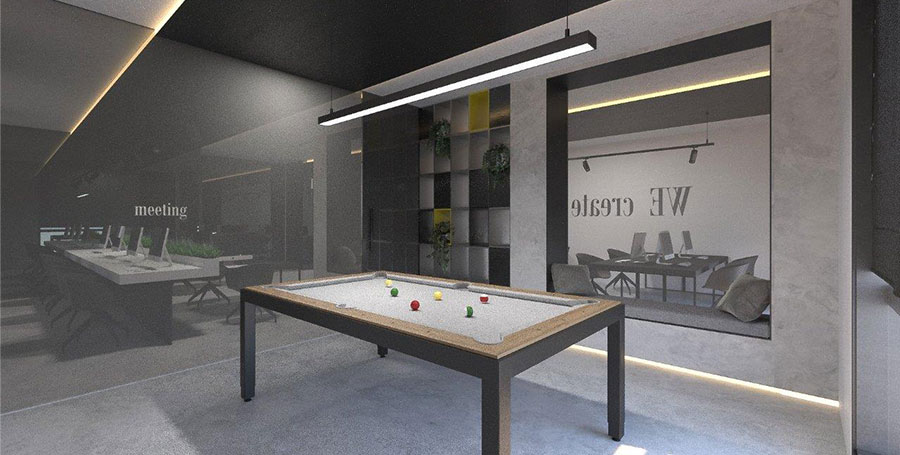 The latest news is that you don't have to search anymore, because you're already in the right place!
In a quiet part of Vozdovac, only 5 minutes away from Autokomanda and 10 minutes away from the center of the city (with amazing highway connection) a new quintessential business building arose, which already upon first glance, stands out with its modern architecture and contemporary design. This luxurious five story establishment, with square surface of 492 m2, is tucked in a serene street and is made for a creative team, who will use it for work and pleasure. The building is accentuated with four backyard-oriented terraces, French balconies on the frontal side, and as a pinnacle of luxury, the highest level contains a rooftop deck, with a 9x3 m pool, from which you can enjoy views over the entire city.
This modern business object, with the largest rooftop pool in Belgrade, aside from cityscape views, gives you a plethora of enjoyment options. Relaxing in-between meetings on the deck or socializing with co-workers next to the pool, is a sure path to success.
If you're expecting your business to expand, there is an option of adjoining an additional 131 m2 + 73 m2 of backyard with a pool.
M3 business space is built using only premium materials. Anthracite grey joinery with stop sol effect gives you privacy, while the additional warmth on the front facade is created by wooden jalousie made of Siberian larch.
The entrance is clearly marked with a 3D tin canopy, while it is secured with surveillance cameras and alarms. The space around the entrance is perfect for highlighting your company's branding.
Made to measure interior
Key advantage of this business space is flexible interior, which is adaptable to occupant's demands, in accordance with established legal standards. Interior projects is realized after defining all needs of the future tenant.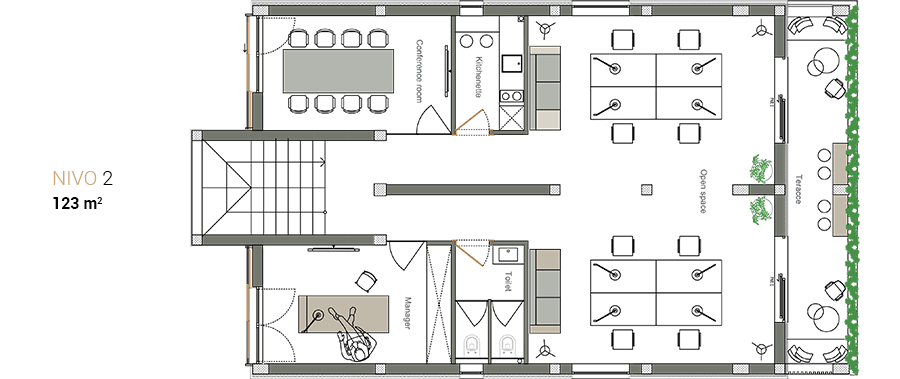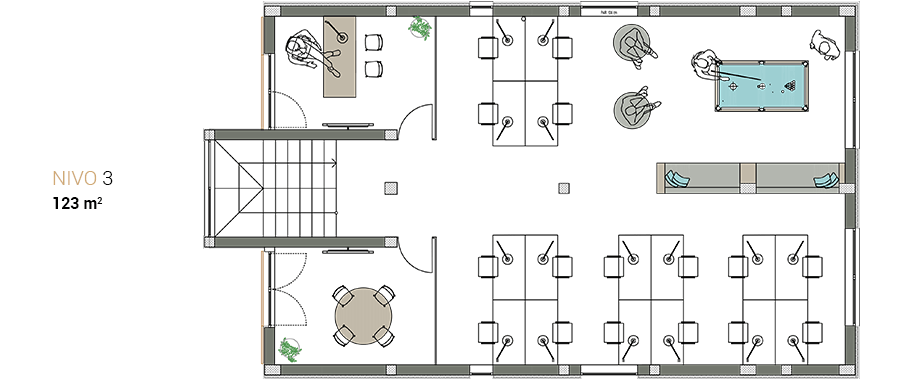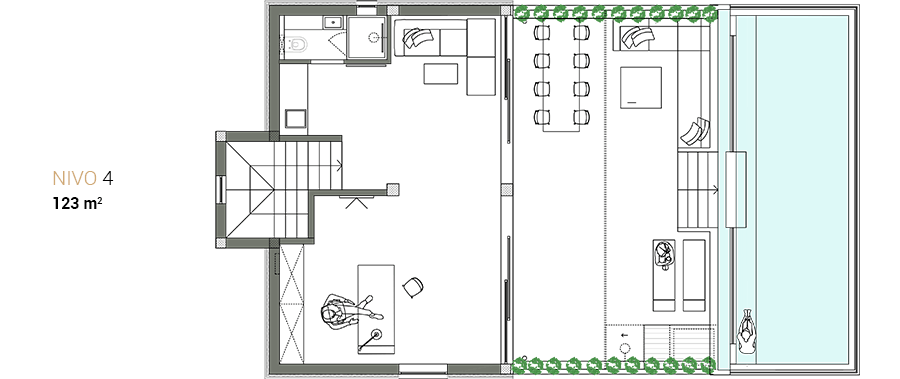 M3 is an ideal workspace for a business team who want to upgrade their office and ideas, to make private working spaces comfortable, creative and inspiring, which will make work much easier. A large success has already been achieved, when employees feel at home in the office and eagerly await the next business day.
The object is habitable 60 days after the contract has been signed and the interior project defined.